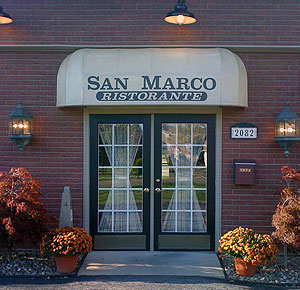 For more than 37 years Owners/Chefs Frank and Nancy Grimaldi have delighted guests from Western New York and around the world with the wonderful flavors of Italian Cuisine and devotion to excellent service. San Marco is Buffalo's top restaurant in Northern Italian cuisine. It is easy to see why Nancy was voted as one of Buffalo's Top Chef's, as the restaurant boasts several 4 Star write ups from Janus Okun. The success of San Marco derives from Frank and Nancy's enthusiasm for bringing the true Italian tradition of fine food and hospitality to their customers.
Alfredo and Palma Grimaldi immigrated to the United Sates in the late 1960s bringing with them their twin boys, Francesco and Guiseppe. They also brought with them the authentic tastes of Northern Italian cuisine. Exquisite meals were abundant at the Grimaldi household, where they always loved to celebrate around food with family and friends. Alfredo and Palma had both cooked professionally in Italy, so it was no surprise when Frank decided in his late twenties that Buffalo might enjoy this type of cuisine and experience. Though it was very different than the typical American Italian fair; It was authentic Italian Cuisine.
In 1984 Frank with the help of his parents and then fiancée Nancy opened the first San Marco Ristorante on Kenmore Avenue. Their philosophy was simple, to serve the best ingredients and bring the great Italian tradition of hospitality and quality at the table and in the glass. "Every night we give our best to our customers with exquisite flavors and beautifully prepared dishes to all who will join us." From that day forward guests have always received close personal attention, from a friendly greeting at the door, to excellent service at the table. This philosophy has never faltered and explains why San Marcos patrons are so devoted and outspoken about their relationship with the restaurant and the Grimaldis.
And with their opening, began the Northern Italian Cuisine revolution in Buffalo. Not long after their success, others try to imitate their cuisine, never fully being able to match it. San Marco still stands out after twenty-eight years, with Frank and Nancy there every night, making sure the quality of the food and service is never compromised.